Location Monitoring (LM) is a cost-effective alternative to detention. It is a special condition imposed by the Court that requires an individual to remain at home except for certain approved activities such as work, court appearances, religious services, and medical appointments. There are three components of location monitoring: Home Incarceration, Home Detention, and Curfew.
Home Incarceration is the most restrictive, requiring 24-hour lockdown except for medical needs, court appearances, and activities approved by the court.
Home Detention requires the participant to remain at home except for pre-approved absences for employment, education, religious services, treatment, and court obligations.
Curfew is the least restrictive and requires the participant to remain at home during set periods of the day.

 
Technology
The following are various types of technology used to monitor the above-mentioned components of Location Monitoring (photos courtesy of BI):
 
Radio Frequency (RF)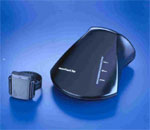 RF technology utilizes a transmitter and Field Monitoring Device (FMD), which is placed in a defendant's residence. The FMD requires a analog phone line and power source.
Global Positioning System (GPS)

GPS uses a tracking device to record the locations of defendants and offenders in the community. Typically this is accomplished using an ankle bracelet.  The information is immediately available to the officer for review.